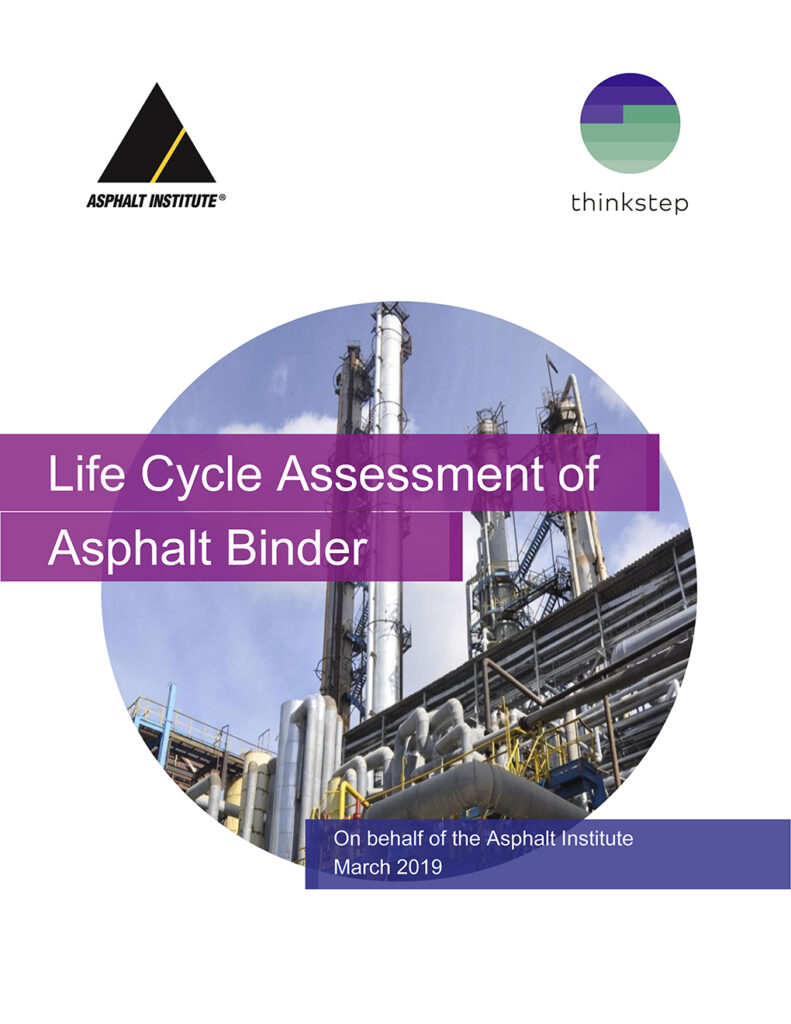 This LCA study on asphalt binder produced in North America was completed in March 2019 by thinkstep AG for the Asphalt Institute. The Asphalt Institute selected thinkstep because of their expertise in conducting LCAs on a wide variety of products, including the petroleum sector and building materials.
The study and final report were conducted in accordance with the International Standards ISO 14040:2006 and ISO 14044:2006. A critical review by outside experts, though not required by ISO 14044, was also conducted and incorporated.
The full report, an executive summary, and associated LCI datasets are all free downloads here:
---
LCA is a method used to quantify the environmental impact of products, accounting for burdens throughout the supply chain.
This industry-wide cradle-to-gate LCA covers four asphalt binder products: asphalt binder without additives, asphalt binder with styrene butadiene styrene (SBS), asphalt binder with terminally blended ground rubber tire (GTR), and asphalt with polyphosphoric acid (PPA). The study produced industry-average Life Cycle Inventory (LCI) datasets on asphalt binders that are representative of North American industry conditions.
The National Asphalt Pavement Association (NAPA) has an Environmental Product Declaration (EPD) program for asphalt mixtures. http://www.asphaltpavement.org/EPD
The declared unit and reported impact categories in this LCA align with NAPA's EPD program and associated Product Category Rules (PCR).
LCi datasets, provided in 3 different formats:
The Excel dataset is packaged into a ZIP which will uncompress into 4 separate files, one for each product in the study. RNA in the Excel file names refers to Region North America.
Thinkstep's GaBi software is required to access the GaBi database. GaBi can be purchased here.
ILCD is an electronic data set format for life cycle inventory data developed by the European Commission, enabling "efficient exchange of data" between LCA practitioners. ILCD Handbook
Federal LCA Commons
The 4 LCI product datasets are also available in the U.S. Life Cycle Inventory Database via the Federal LCA Commons.
Participating Member Companies
Thanks to our 12 Asphalt Institute member companies shown below for participating in the study by providing extensive data from a total of 12 refineries and 10 terminals. This support made the study possible.