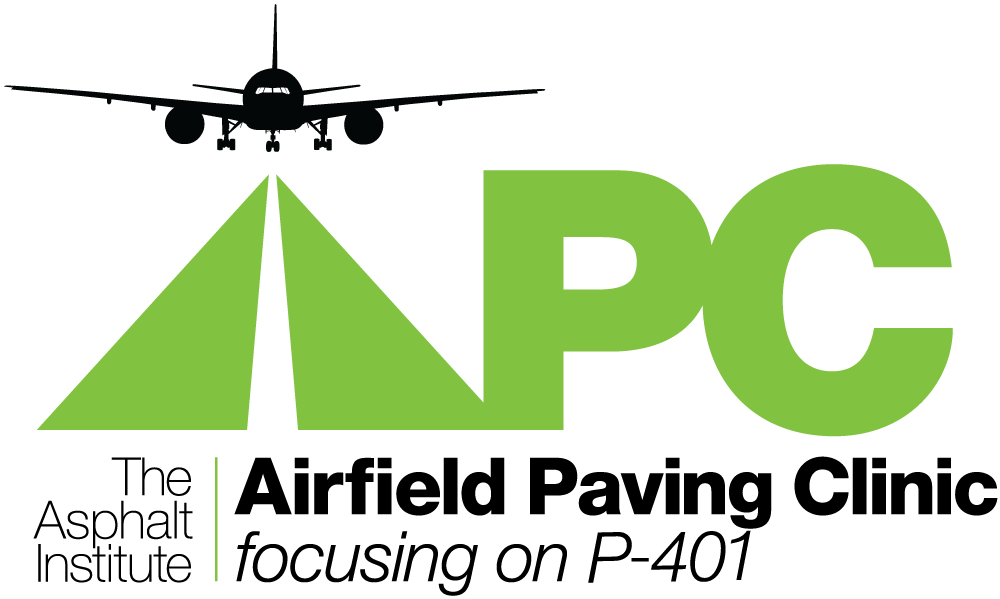 Upcoming Class Dates
Dates
Times
Location
PDHs
Registration

TBA

TBA

ONLINE!

*

12

TBA
*
Continuous Live Chat with experienced Asphalt Institute Engineers will be available throughout the sessions to address your questions and comments.
Description
This clinic provides focused and detailed guidance on constructing asphalt pavements for Federal Aviation Administration funded airfield pavement projects. Participants will take a deep-dive into the design and production of asphalt mixtures, focusing on the current FAA P-401 specification. Discussion topics will include material specifications, construction guidance, and quality control considerations to construct long-life asphalt pavements in the commercial and general aviation environment.
The clinic is based on the just released AC 150/5370-10H. Focus will be placed on the key asphalt-related specification sections necessary for Contractors, Inspectors, Airport staff, Engineers, etc.
Learn about significant changes in the NEW version of FAA's P-401. AC 150/5370-10H brings significant changes to P-401 and other specs pertaining to asphalt paving. Some of these include:
Adjusted aggregate gradation bands
Minimum lift thickness guidance
Tack coat as a separate pay item
Contractor quality control: greater emphasis, new requirements and separate pay item
New loaded wheel test requirement for both Marshall or gyratory mixes
New guidance on PG grade selection
Reference Density now theoretical maximum density
Highlighted Topics:
Asphalt Binders – Performance Grade Selection and Grade Bumping for Airports
Asphalt Mix Design and Volumetrics: P-401 Marshall/Gyratory
Tack Coat: P-603 (separate pay item under 10H)
Asphalt Laydown and Compaction to Achieve P-401 Density Requirements
Longitudinal Joint Best Practices
Contractor Quality Control Requirements (expanded under 10H)
PWL and Acceptance Testing Requirements in P-401
Who Should Attend
The clinic is intended for FAA, state aviation, and airport staff, contractors, inspectors, consulting engineers, testing laboratory personnel, and others who are involved in airport asphalt pavement construction.
Fees & Registration
The registration fee for this online/virtual course is $645.
The registration fee for this online/virtual course for state aviation officials (SAO) is $545 per person.
The registration fee for this online/virtual course for FAA employees is $445 per person since this is an FAA co-sponsored workshop.
SAO and FAA employees need to call the Asphalt Institute at 859.288.4960 to register. The discounted rates apply ONLY to employees of the SAO and FAA, respectively – not airport contractors or other government agencies.
Fees cover a digital copy of the course workbook, all presentations, and handouts. A digital copy of the following publications is also included:

Pertinent FAA ACs and other info

Registration fees must be received prior to the course date.
The Asphalt Institute has the right to cancel this class if registration does not meet a minimum number of students. Registrants will be notified 14 days prior to the class if this occurs.
Notes
If you work for an Asphalt Institute member company and this is your first time registering, please call 859.288.4960 if you need assistance in setting up an account.
If you are an SAO or FAA employee please call 859.288.4960 for assistance in registering in order to receive your discounted rate or use the Asphalt Academy Mail / Fax Registration Form.
Transfer, Cancellation and Refund Policy
For the virtual course, you may cancel without penalty up to one week prior to course start date. If you provide the Asphalt Institute with less than one week's notice, or fail to attend, you will be liable for the entire seminar fee.
For in-person courses you may also send someone to take your place. We appreciate that this is an important investment for you and your company and would like to accommodate your needs the best we can. Therefore, please call us at 859.288.4960.
Helpful Links
Inclement Weather Information
In case of inclement weather please check our Inclement Weather Information page for further instructions.
For more information contact
Asphalt Institute Headquarters
Phone: 859.288.4960
Fax: 859.288.4999
Email: seminars@asphaltinstitute.org